HR Generalist – Miami, FL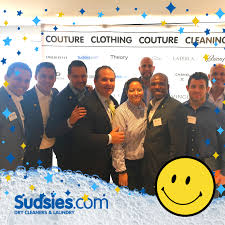 If you ever thought the dry cleaning business was too dry for you, think again!  You have most likely seen our trucks around town with smiles all over them.  This is who we are all about at Sudsies.  We are South Florida's friendliest full service dry cleaning company and seeking a Human Resource professional with an entrepreneurial edge to join our fantastic team.  This is a massive growth role that will provide you with the opportunity to learn our business, make a difference, and do what you love.  Sudsies is more than cleaning your clothes – we are in the people business where everything we do begins and ends with a smile 😊
If this gets you excited, read on!
Why Sudsies?
Our mission is to provide a human touch and user friendly systems in the delivery of our services.  We invest our hearts, minds and humor into developing a bond with the human beings who are our customers and co-workers.  We enjoy creating the warm, fuzzy, funny and unique experience that personifies the Sudsies brand for our customers.  Our culture is all about taking ownership of everything in your world, from the good to your mistakes and shortfalls and not making excuses or blaming others.  And then taking ownership of the solutions that will solve those problems.  We even have our own Sudsies University!
In business for 25 years, Sudsies has grown to 5 stand alone boutiques in Dade, Broward, and Palm Beach counties.  We are the most eco-friendly dry cleaner in the entire state of Florida offering couture and luxury brand care services.  Many of our 200 employees have been long tenured.  You will love working here!
Visit us at www.sudsies.com to learn more! 😊
Our ideal candidate:
We are seeking an entrepreneurial person who is innovative and energetic, someone who wants to grow both personally and professionally.  You thrive in a fast paced environment and connect quickly with others in a warm, poised, and enthusiastic way, excel at working with and through others, building and maintaining relationships while working collaboratively.  You are a great people motivator and love bringing out the best in others.
More about the role…
You will be involved in all areas of human resources, including recruitment, onboarding, employee relations, performance management, policies & procedures, and compliance and taking us to the next level as we (and you) grow.  😊
Snapshot of key accountabilities:
Be an ambassador of our core values and ensure all employees are engaged in practicing them daily
Develop a robust talent acquisition process with the goal of establishing a pipeline of talent, a consistent hiring process, and timely filling of positions; recruit, interview, and facilitate the hiring of open positions
Ensure a smooth onboarding and orientation process so that new employees have a positive starting experience, including coordinating new hires with our PEO and Sudsies University
Coordinate the performance review process ensuring timely reviews
Participate in disciplinary meetings, terminations, and investigations
Create operational efficiency with our people processes
Identify opportunities for internal process improvements
Act as point of contact for employees who have questions
Maintain knowledge of trends, best practices, regulatory changes and new technologies in HR, talent management and employment law
Skills and Experience required:
Bachelors Degree in Human Resources, Business Administration, or related field preferred
5+ years human resource management experience
Bilingual preferred
PHR or SPHR preferred
Proficient with MS Office